Dashboards: Revolutionizing the Way Employee Data is Accessed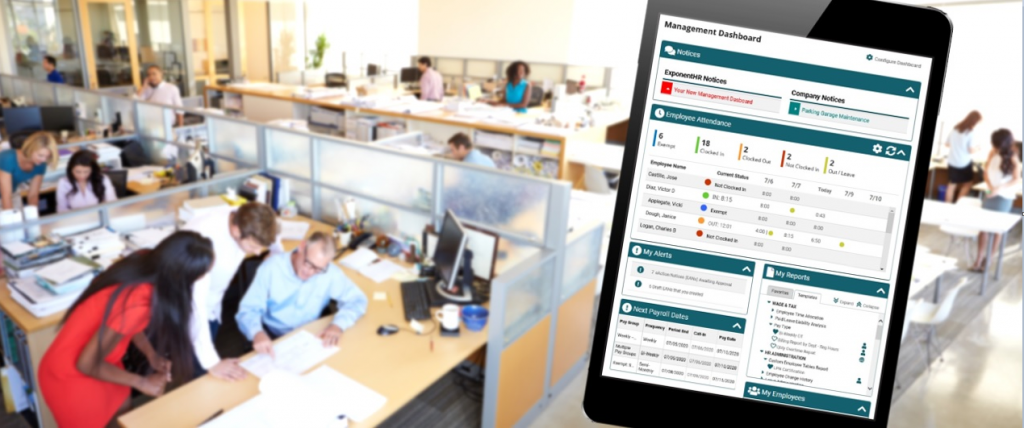 Dashboards act as command central for essential information with important data being housed on one screen. They offer real-time information and insight into emerging trends by providing quick, high-level overviews and the ability to dive into deeper detail. Dashboards deliver an easy method to compare peers, groups, or departments to help find areas of improvement, which drives operational efficiency.
The ExponentHR management dashboard supplies pertinent real-time data, the ability to retrieve detailed data more effectively, and give easier visibility to patterns and trends to make sound business decisions and drive workflow. Below you will find helpful suggestions for using some of the new widgets to do just that!
Employee Attendance Widget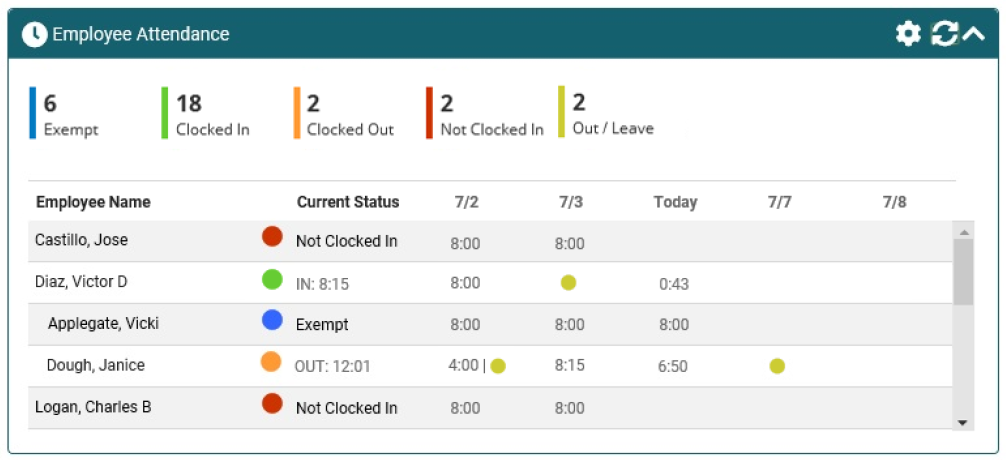 With many visual cues, the Employee Attendance widget is a time clock supervisor's management powerhouse. A bird's eye view to a supervisor's direct and indirect time clock reports, contractors, and the choice to include Saturdays and/or Sundays accelerates access to time clock information to make on the spot business decisions. By clicking statuses along the top, managers view only employees in those statuses. A manager also can choose to see employees in multiple statuses by clicking on multiple status types. Without leaving the dashboard, supervisors can quickly see if employees are adhering to their designated work schedule or have overtime. Providing supervisors with informative and easy to read dashboards helps them stay in touch with their team's work habits, which provides them with a way to make changes to create operational efficiencies like reducing overtime costs, ensuring enough coverage for upcoming days, monitoring arrival time, lunch breaks, leave, and much more!
My Reports Widget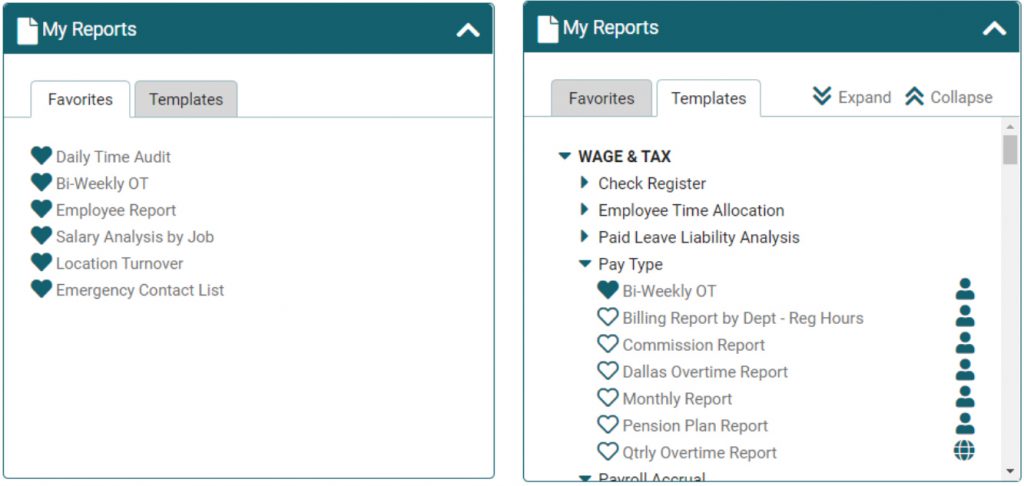 The My Reports widget makes stored report templates (personal and global) visible and immediately accessible to management users from their dashboard. Global templates are available to all users of a given report to simplify report creation and provide consistency to report running throughout organizations. Personal templates are created by and only available to the user who stored the template. By bringing these report templates to the forefront, an organization can ensure its managers are using valuable standardized reports to help make informed business decisions. If a company creates a global template to help manage overtime, for example, managers can mark that template as a favorite simply by clicking the heart icon next to the template name. This will add the template to their Favorites tab, which allows one-click access to the report page with the template settings populated. Managers can configure the sort order of their favorite templates, so their most frequently utilized reports appear at the top of the list. By highlighting the available reports and creating global templates for managers, businesses can drive managers to specific information supplying insight into their personnel.
My Employees Widget 

The My Employees widget offers supervisors an effortless way to review a variety of information about their employees without leaving the dashboard by clicking the Employee Information icon. By clicking on the down arrow, a dropdown list appears giving one-click access to more areas of the site to review data to make informed decisions and perform necessary job duties. Managers click the plus sign (+) next to their direct reports to review the employees who indirectly report to them supplying greater visibility.
These widgets are the tip of the iceberg! We have additional widgets available today to aid with items such as employee communication, onscreen alerts bringing attention to items requiring your action, and reminders of upcoming payroll deadlines. Dashboards and widgets empower and engage managers and administrators. Data and analytics are the backbone of business, contact us to learn how to get the most useful data out of your widgets.