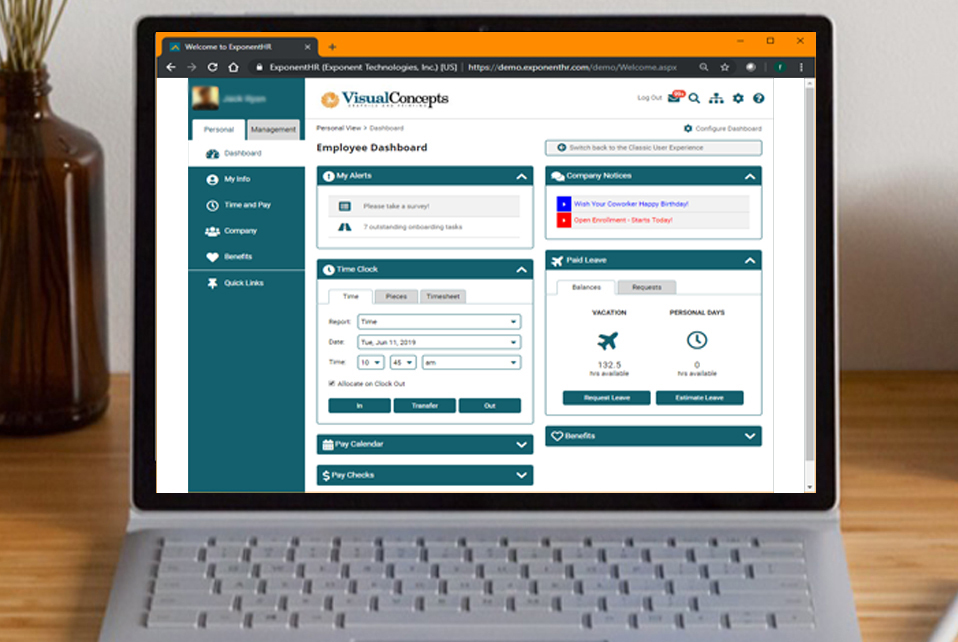 Employers seeking top productivity and maximum long-term employee satisfaction strive to provide a superior employee-centric experience.  
ExponentHR's platform offers this and empowers employees throughout their employment life cycle. 
Engagement – Our Survey tool is a great way to gather practical information, and help employees feel valued and connected to the company.  ExponentHR stores the employee's demographic and census data which enables companies to "slice and dice" survey results into smaller focused segments.  Our reporting provides powerful analytics that lead to actionable insights to help create and maintain a high-performing and engaged workforce. 
Mobile Access – Employees can use their phones and mobile devices to access their information, initiate transactions, clock in and out, report expenses and much more…from anyplace, anytime. 
Performance Management – Leadership plays a huge role in employee success and satisfaction. ExponentHR's Performance tool enables managers and employees to set goals, track the progress, and journal throughout the year.  Cascading goals are available so there can be a "line of sight" between company and individual goals. 
Consistent meetings to measure progress on goals can provide great dialogue and coaching opportunities. 
Onboarding – There is no better way to create a great first impression than providing your new hires an excellent onboarding experience.  Our Onboarding tool allows for: 
Configuration – Create multiple templates based on employee classifications.  
Personalization – Employees enjoy an experience and workflow tailored to their needs. 
Oversight -Dashboards provide drill down visibility and track progress. 
ExponentHR's Onboarding is not just focused on new hires.  The tool can also be used to engage internal team members post hire.   
Widgets – Making everyday tasks such as reporting time and requesting paid leave easy for employees helps to ensure a good employee experience. Our Dashboard gives employees quick visibility to relevant information such as their check stubs, paid leave balance, benefits information, and pay calendar. The employee's ability to configure the dashboard empowers them to decide what widgets will be on the dashboard.  
Employee Self Service – Empower employees to manage their own transactions such as changing Direct Deposit information or initiating Expense Reimbursements.  When employees can manage their own daily details, they feel more engaged and productive.  
Resources – Will I lose my PTO hours if I don't use them?  Is my doctor covered in the company's insurance plan?  What defines business casual in the workplace?  When employees have questions about company policies, often the first place they go is Human Resources; however, this doesn't have to be the case.  Utilizing the available Forms and Resources library, HR no longer has to be the middle person as employees can easily search and locate any document or form you choose to publish.  Administrators are even able to designate which job title is applicable to a specific document (ex. Job Description), helping ensure employees are accessing the right information and putting the answers right at their fingertips. 
Employees want to feel both relevant and appreciated.  Let ExponentHR help you by utilizing the engagement tools we provide!