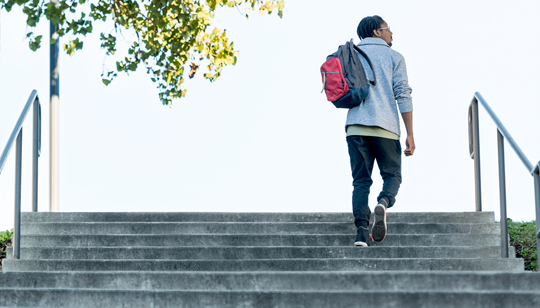 School bells are ringing once again as parents proudly watch their students take yet another step up the education stairway.  Each completed step is its own achievement; yet for seniors, the conclusion of this year comes with an extra sense of triumph.  A noteworthy goal has been reached and graduates are filled with excitement as they are anxious to put that fresh knowledge to good use.
For most, this determines where the finish line is drawn on that path towards a planned education.  With diploma in hand and a job secured, classroom style education becomes relegated as just a memory that helped them get to this point.  It laid a solid foundation and gave a significant boost up one of the initial steps towards a successful career; yet, that doesn't mean there aren't more available steps awaiting to be taken.  And as many young graduates discover, there is still much to learn in order to feel confident in their ability to become a viable asset for your organization and to gain a sense of belonging.  Combined with a growing trend of younger employees expecting to find their place quickly, employers are presented with the challenge to invest early or risk the loss of retention.
However, there is another growing trend that offers the positive outcome desired by both employees and employers.  The increase of flexible higher education options is resulting in more actively employed individuals returning to the classroom.  These employees gain a new personal sense of achievement as they learn new skillsets and gain knowledge to advance their career.  While this may initially be a concern for employers (fearing an employee may quit when the final class is dismissed), encouraging employees to go back to school actually benefits employers too.
By supporting an employee's decision to return to school, the individual's self-evaluation of wanting (or needing) to improve is recognized.  The gaps may be small and be as simple as taking a course or two in order to gain a deeper understanding of a topic (ex. Accounting), learn how to better utilize existing software (spreadsheet functionality), or to stay current on the technology or regulations related to your business's dynamic industry.  In potentially less than a year of school, an employee's work suddenly becomes more efficient and provides the team a better opportunity of success. 
It also opens the door for personal continued success.  Employees may be fully committed to your organization but will grow tired of current responsibilities if they feel they have reached the maximum offered potential.  If left unchanged, the employee becomes bored, disengaged, and possibly employed elsewhere.  A real concern of employers should be in regard to losing those who have more to offer and want to remain part of your team.  And while there may be additional, enticing opportunities presently within your organization, the employee may simply be missing the final qualifying pieces to be of real consideration for a new role.  Again, this is where an employer's awareness and encouragement of an employee's desire to return to school offers a great reward.   
Naturally, employers may still be internally speculating as to what students will choose to do with the advanced education once completed.  Rest assure that statistics reflect that employers who actively support an employee's decision to return to school have an overall improved employee retention.  Not to mention that by offering a flexible work schedule, you are receiving an employee's best possible performance at work (as opposed to it going towards late night online classes).  In reality, the public commitment of the employer naturally results in a stronger commitment of the employee.
Not sure if employees are even contemplating going back to school or not sure how to effectively let everyone know of your organization's support of a continuing education?  Consider creating and publicizing an advanced education school program.  Whether it be logistically and/or financially supported in some way, offering such a program creates awareness of how much your employees and their future is valued.  And for those looking for a place to apply their fresh knowledge and start a career, this may be just the incentive to draw them to you.  In the end, employers will discover that employees are further developed and committed.  Proving that employees going back to school is a wise investment in their future…and your company's.